Mi Wireless Outdoor Security Camera 1080p
Brand: Mi
Model:

MWC13

What is it:

Surveillance camera with battery

Release date:

July 2021
Rankings:
Report an error
Specifications
Medidas
52.7 × 122 × 102.6 mm
Material del cuerpo
ABS + PC
Tª óptima funcionamiento
-20°C ∼ 50°C
Funciones Generales
Cámara con batería; Detección IA humanoide; Visión nocturna WRD; Comunicación dual
Conectividad
Wi-Fi FiIEEE802.11b/g/n 2.4 GHz
Compatibilidad OS
Android 6.0 or iOS 10
Tipo de entradas
Type-C, MicroSD-RJ45-USB (receptor)
Almacenamiento
Micro SD card (up to 32 GB)
Calidad de la lente
1920 × 1080
Visión nocturna
940 nm infrared light ×8
Report an error
Buy Mi Wireless Outdoor Security Camera 1080p at best price
Analysis of Mi Wireless Outdoor Security Camera 1080p
Xiaomi launched the first outdoor wireless camera. Its installation is free of wiring, it is simply where you want to install, which completely breaks the restriction of installing the camera with a power cable. Regardless of whether it is a stacked duplex, or on the first floor of a bungalow, shop-restaurant, own garden, private garage, country patio, etc. It is equipped with a 130-degree wide-angle field of view, IP65 waterproof and dustproof, and a 90-day battery life.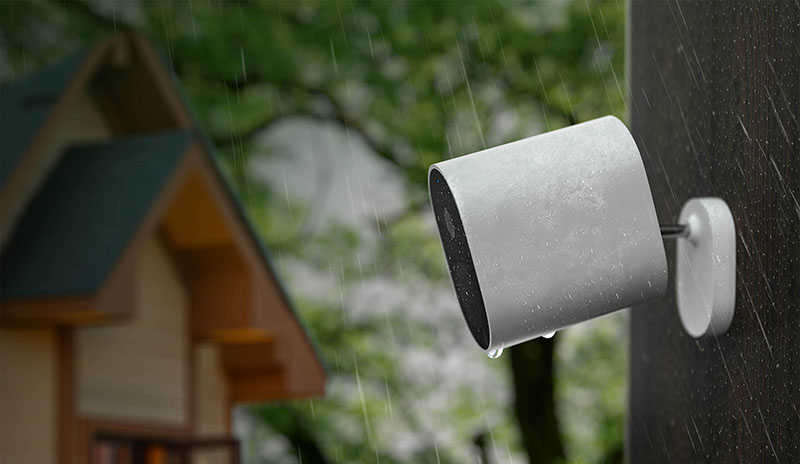 The Xiaomi outdoor camera is also equipped with a 130-degree wide-angle field of view, which can expand the monitoring range and capture more content.What can be done with one camera is definitely not the second. At the same time, with a resolution of 1080p / 30fps, the real situation in the front yard of the house can be restored in high definition.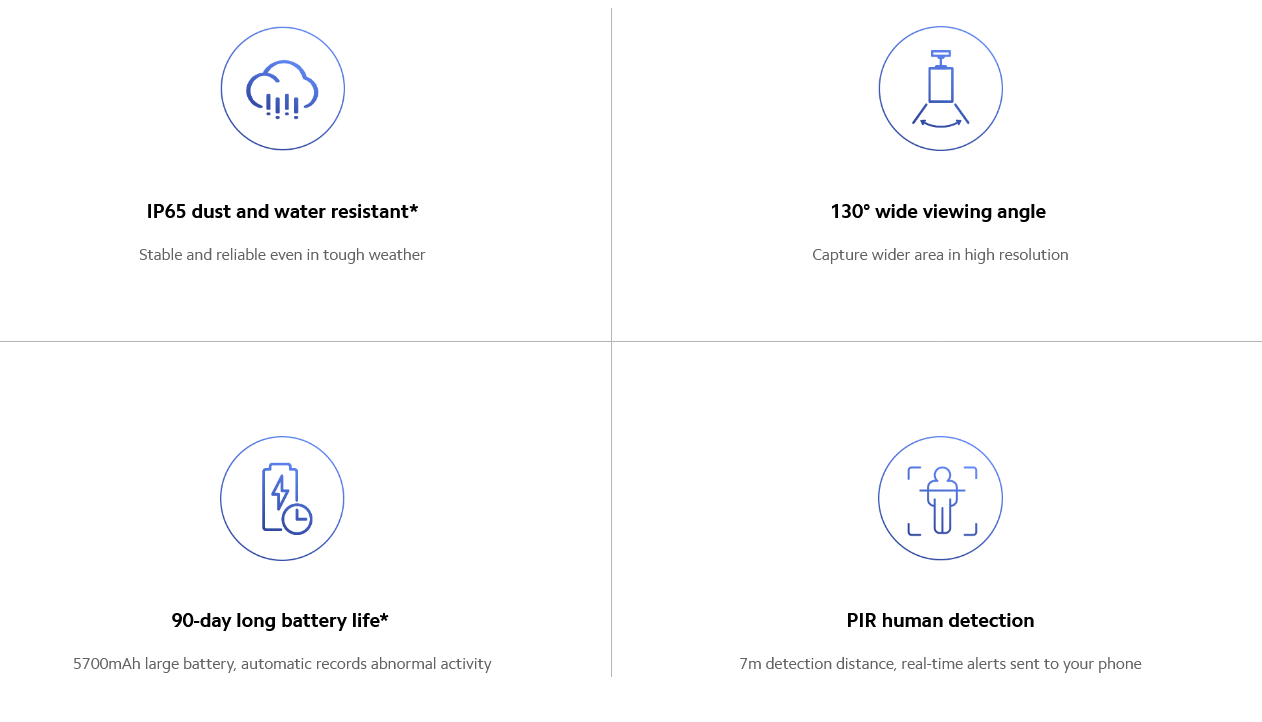 It uses wide dynamic WDR technology and f2.1 large aperture this time, which can clearly capture image details regardless of backlight or dark light. Even at night, it also has a 7m long-distance night vision function, clearly showing the outdoor situation in the night environment.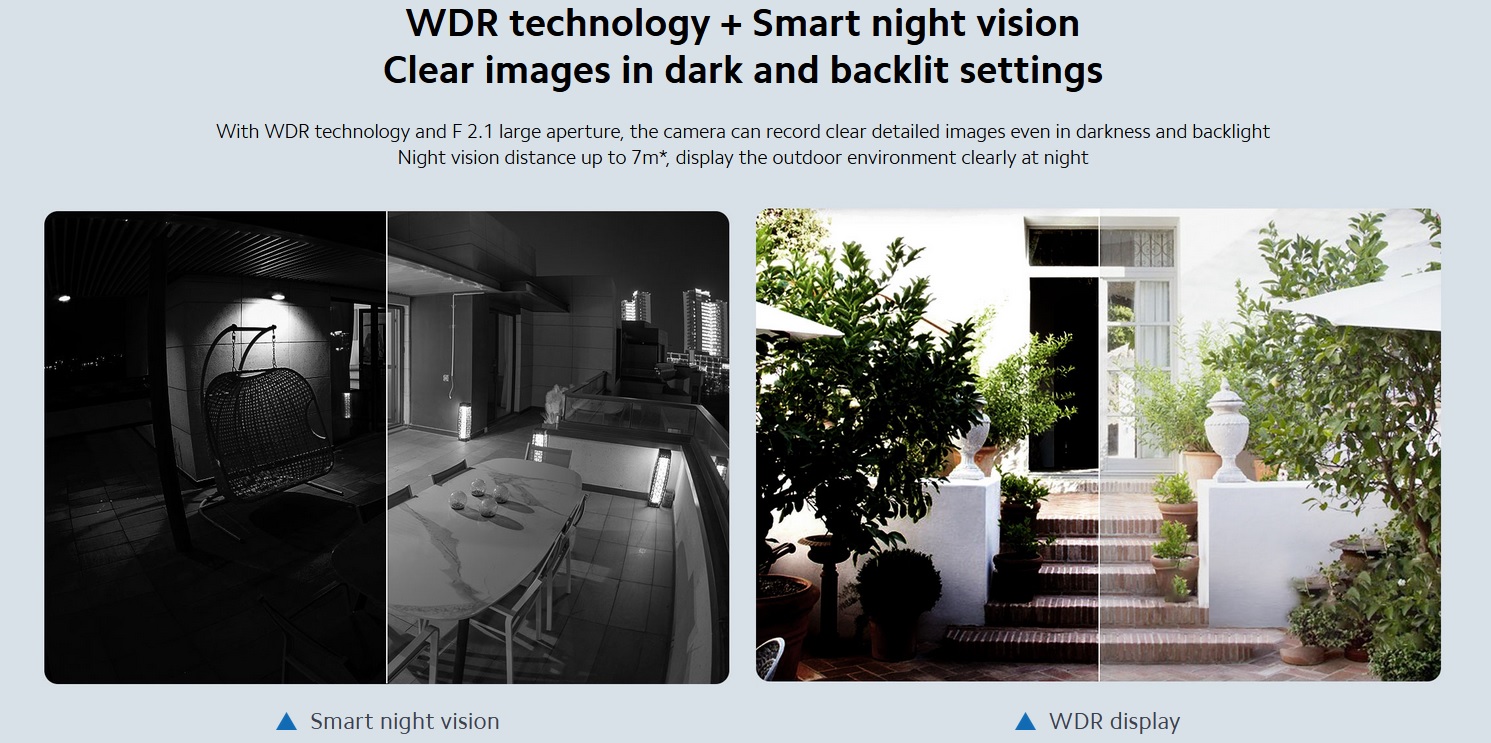 In addition to being able to cope with any light conditions, due to the complex outdoor environment and the different areas and weather conditions where users are, Xiaomi's outdoor cameras also have IP65 waterproof and dustproof performance, and they can cope calmly with sand and dust., rain and snow, and may be below zero. Normal operation in an environment of -20 to 50 degrees above zero.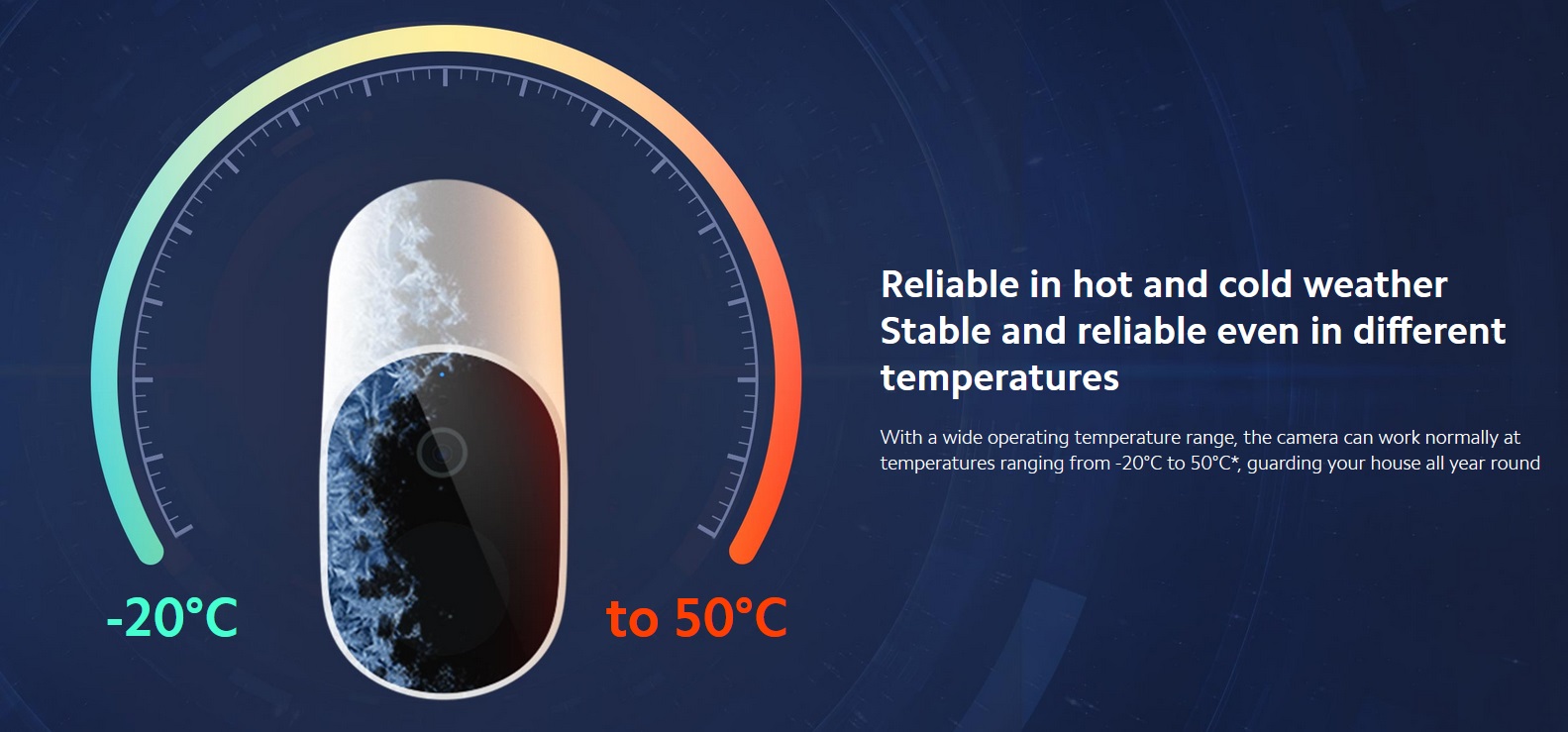 Intelligently analyze the silhouette of the human being in the shooting area and AI facial recognition, which can accurately determine if it is a stranger and can freely change and change the voice during the intercom, and "scare" strangers with success.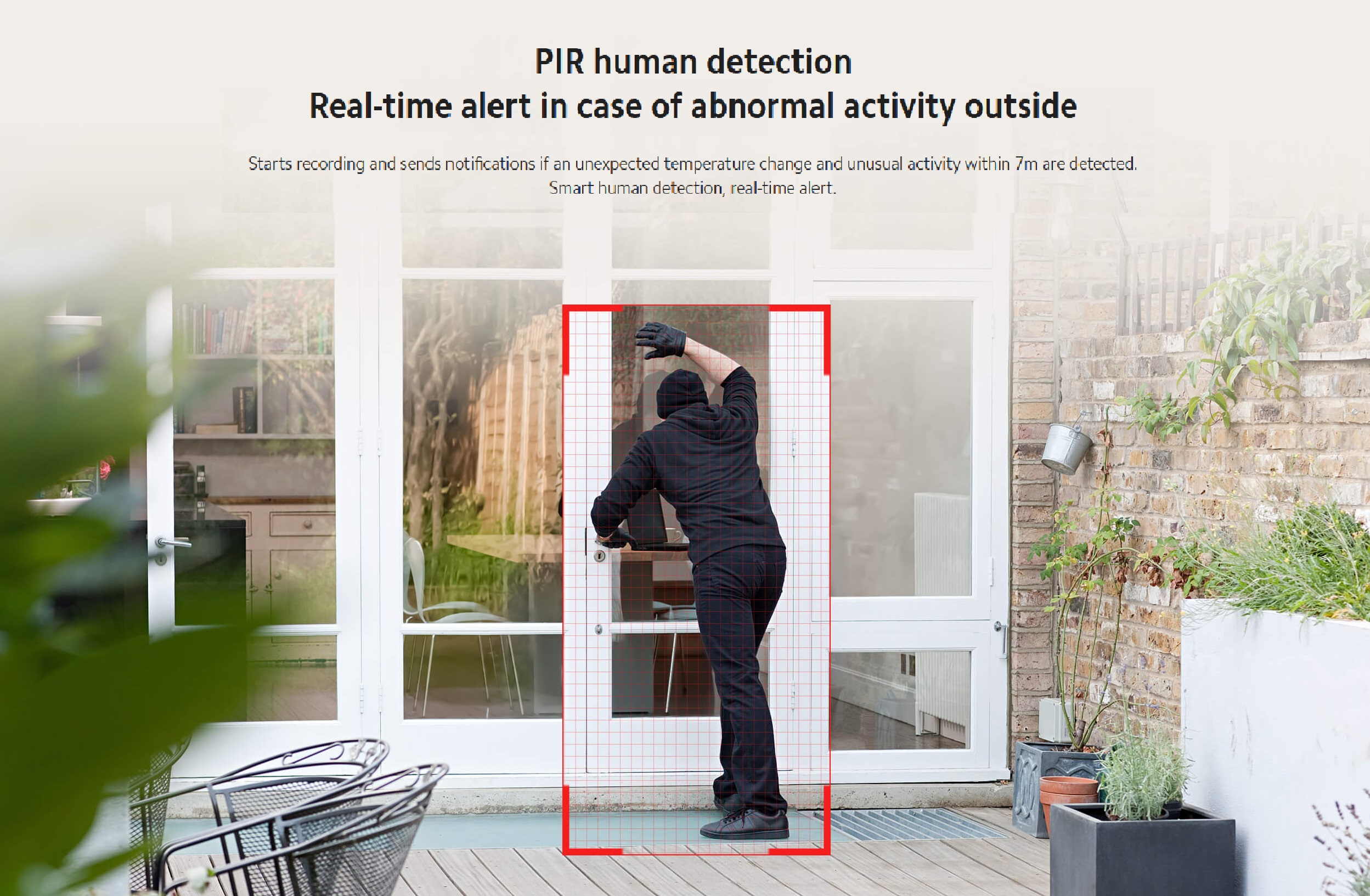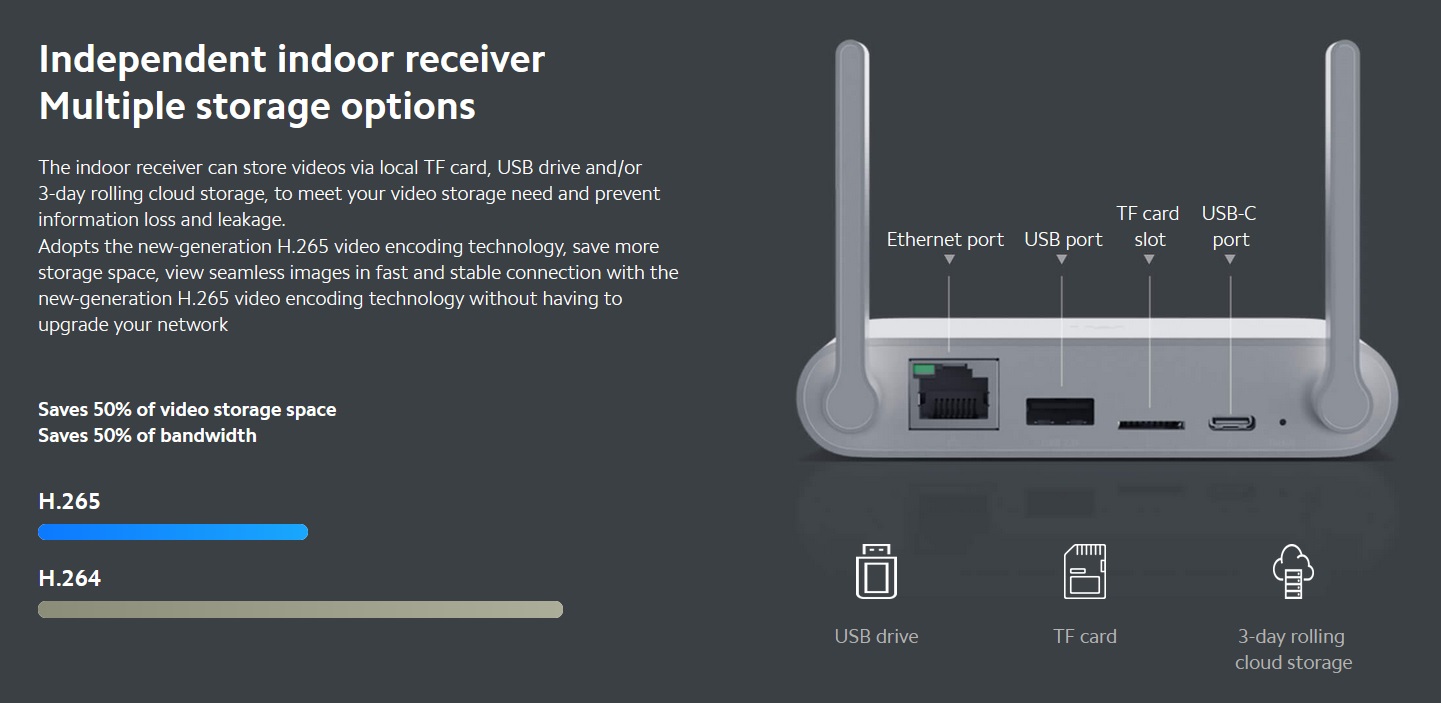 It will be available in two purchase options: Complete set, which includes receiver and camera and only camera. This is because the receiver is capable of connecting with up to 4 cameras simultaneously.
FAQs
When the battery runs out do you need to take it out of place to charge or where it is installed just connect the charger and plug it into the socket? And how long does it take for it to charge?
It is necessary to disassemble the camera to charge it, the battery is fixed or, if there is a plug nearby, it can be connected directly to the power.
Can you make it record 24/7 no stop ?
Can it work as a Hub for other accessories such as temperature sensors, movement...?
Nope
Best deal