Specifications
Material
Aleación de aluminio
Pantalla / Resolución
1.45" AMOLED / 480 x 480
Duración Batería Max / Min
30 días / 12 días / 6 días / 35 horas
Grado de impermeabilidad
5 ATM
Conectividad
Bluetooth 5.0 / WLAN 2.4GHz
Sensores
BioTracker™ sensor biométrico PPG 3.0, Sensor de aceleración, sensor de giroscopio, Sensor geomagnético, altímetro barométrico, Sensor de luz ambiental, Sensor de temperatura
Posicionamiento
GPS, GLONASS, Galileo, BDS, QZSS
Compatibilidad
Android 7.0 / iOS 12.0
Report an error
Buy Amazfit GTR 3 Pro at best price
Analysis of Amazfit GTR 3 Pro
A new series of Amazfit watches has arrived, consisting of 3 models: Amazfit GTR 3, GTR 3 Pro and GTS 3.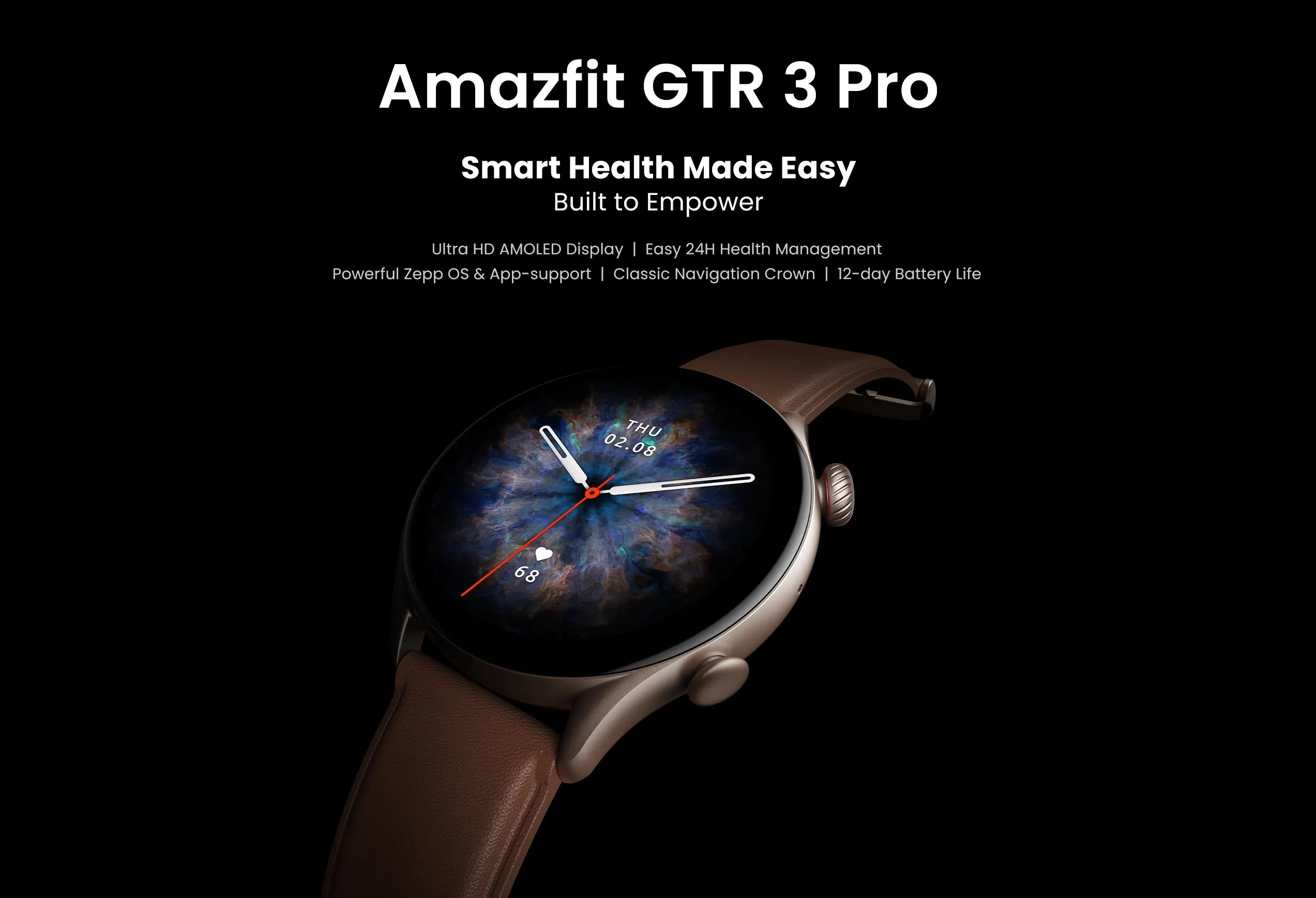 Amazfit GTR 3 and GTS 3 series smartwatches are Amazfit urban fashion smartwatches, adhering to the high-value, high-performance and high-reliability design concept, equipped with the native Zepp OS smartwatch operating system developed by Huami Technology. And the interactive experience is further upgraded to deliver a flagship experience.
Amazfit GTR 3 and GTS 3 series of smart watches continue the simple and modern family design style. Integrated micro-curved clear glass design and aerospace grade aluminum alloy watch body provide limitless viewing. Matte body design blends in with earth. Color system and texture expression are more refined. The watch body has recently been added with a digital crown adorned with CNC craftsmanship.
As the best member of the new Amazfit series, the GTR 3 Pro smartwatch brings some market-leading innovations, while encouraging everyone to lead a healthy lifestyle and inspiring everyone's inner drive.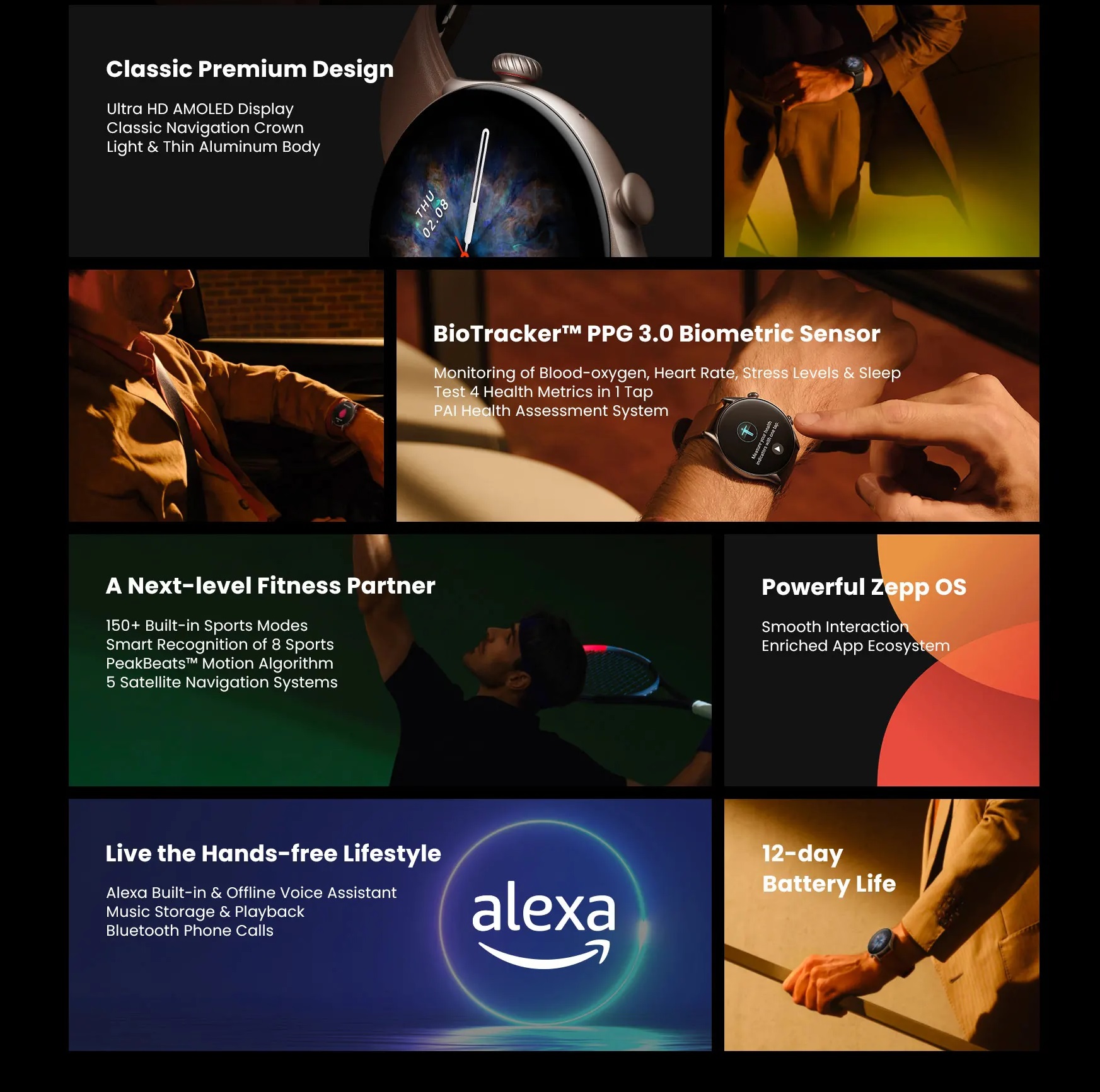 The GTR 3 Pro has a powerful 1.45-inch 331 ppi ultra-high definition AMOLED display with dazzling visuals and a user-friendly interface. The watch has a large circular display, a high refresh rate, and supports smooth and fluid interaction. The screen-to-body ratio reaches a staggering 70.6%. Although it has one of the largest circular screens on the market, it does not waste space and size. It is also very suitable.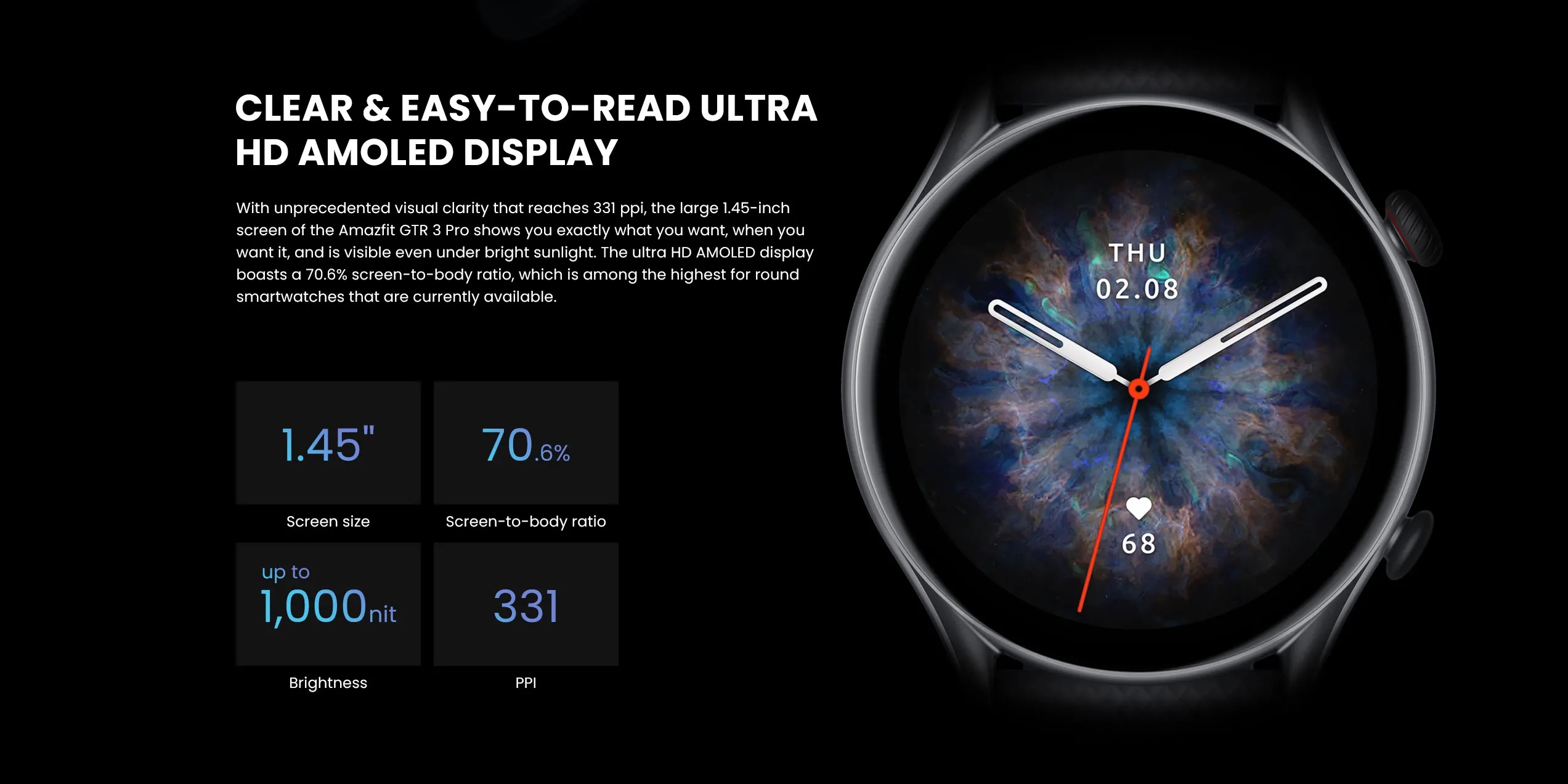 Through the classic navigation crown, you can navigate and cycle through a number of sports modes and functions, and a swipe of your fingertips will provide comforting and satisfying intuitive tactile feedback.
Whether the user starts tracking activity through one of the more than 150 built-in exercise modes, or controls their stress level, GTR 3 Pro can let 'you' know your health status 24 hours a day. hours a day, 7 days a week. If the user forgets to activate their own exercise mode, don't worry: the smart recognition function [12] can support up to eight massive sports, ensuring that users do not accidentally lose track of activity.
The battery life makes the advantages of the GTR 3 Pro more obvious, as this watch is equipped with a sufficient 450 mAh battery, which can provide up to 12 days of uninterrupted battery life on a single charge [13]. So you no longer have to worry about running out of power.
Additionally, music enthusiasts will also love the GTR 3 Pro's 2.3GB [14] built-in memory, which can store up to 470 songs. This means that music can be played independently through the watch directly, eliminating the need for a handheld smartphone. For added convenience, GTR 3 Pro also supports connecting smartphones via Bluetooth to answer and make calls, so users can make hands-free calls.
Amazfit GTR 3 and GTS 3 series of smart watches have added a one-key measurement function recently. It only takes 60 seconds to get a report of 5 important body indicators, such as heart rate, blood oxygen, pressure, breathing rate, and heart health. One measurement, health information at a glance.
Amazfit GTR 3 and GTS 3 series still retain 24-hour full-time heart rate monitoring of previous generation products, support "excessive high and low heart rate warning" and "automatic detection of atrial fibrillation and arrhythmia"; Huami Technology's exclusive PAI health assessment system, can tailor a personalized health assessment system based on the health data of different users.
Amazfit GTR 3 and GTS 3 series smartwatches support 50 meters of professional water resistance and heart rate monitoring underwater, and are not afraid of rain for everyday wear, swimming, rain and snow. The watch is equipped with Beidou, GPS, GLONASS, Galileo, QZSS satellite positioning system and altitude barometric altimeter.
Amazfit GTR 3 and GTS 3 series smartwatches support up to 150+ sports modes. Amazfit GTR 3 and GTS 3 series smartwatches are equipped with PeakBeats® professional exercise algorithm developed by Huami Technology, which can learn maximum oxygen consumption (VO® max), recovery time (RT), exercise load (TL) and the effect of exercise (TE) data analysis makes the sport more professional.
In terms of battery life, the GTR 3 Pro can be used for up to 30 days in basic use, and up to 12 days in regular use.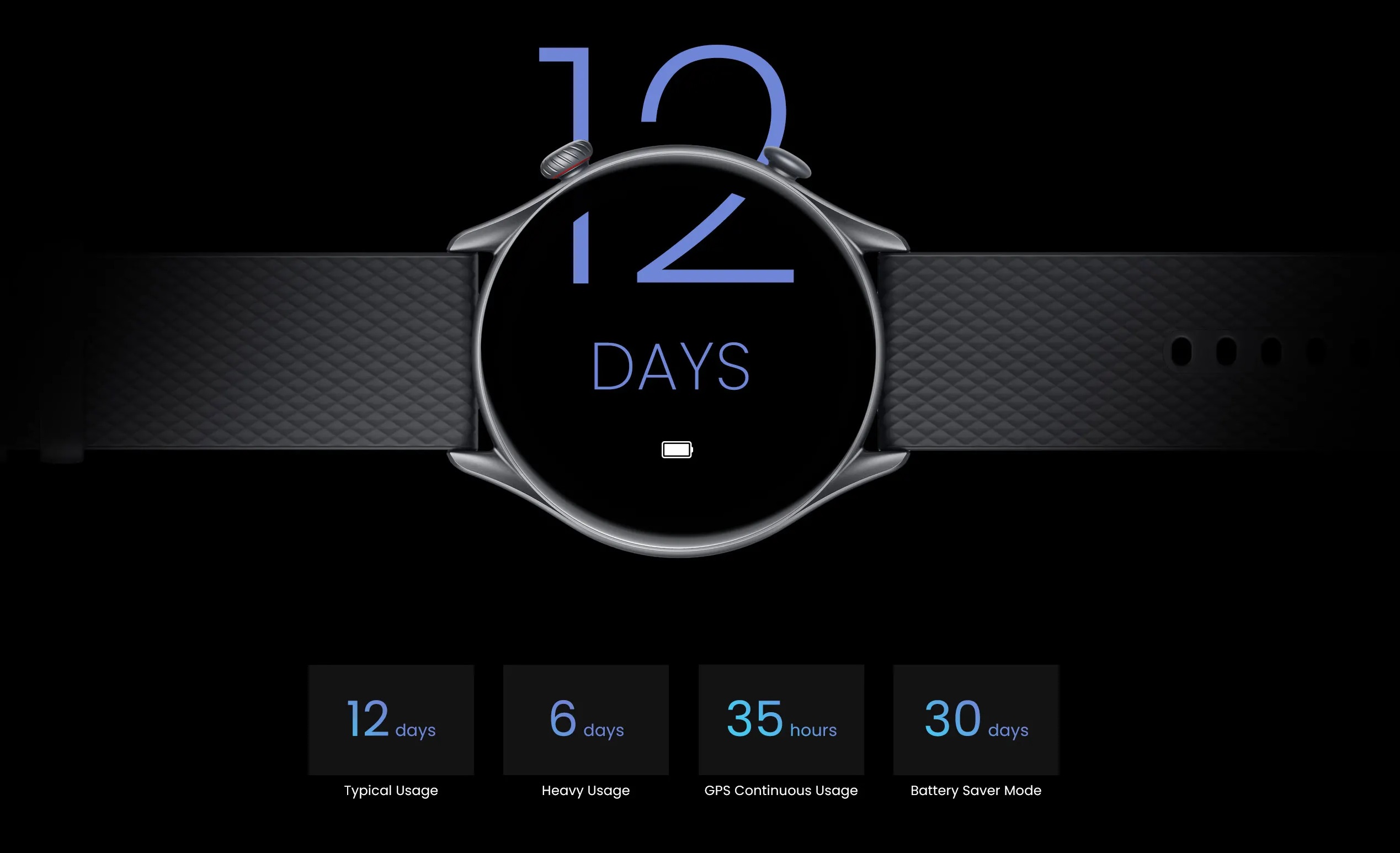 FAQs
Do you have a language in Portuguese?
Yes, you can change the language from Zepp app
Best deal